Online, Hands-on, STEAM-Powered Learning! Virtual makerspace workshops and presentations for all ages and abilities, led by teaching artist Jay Mankita.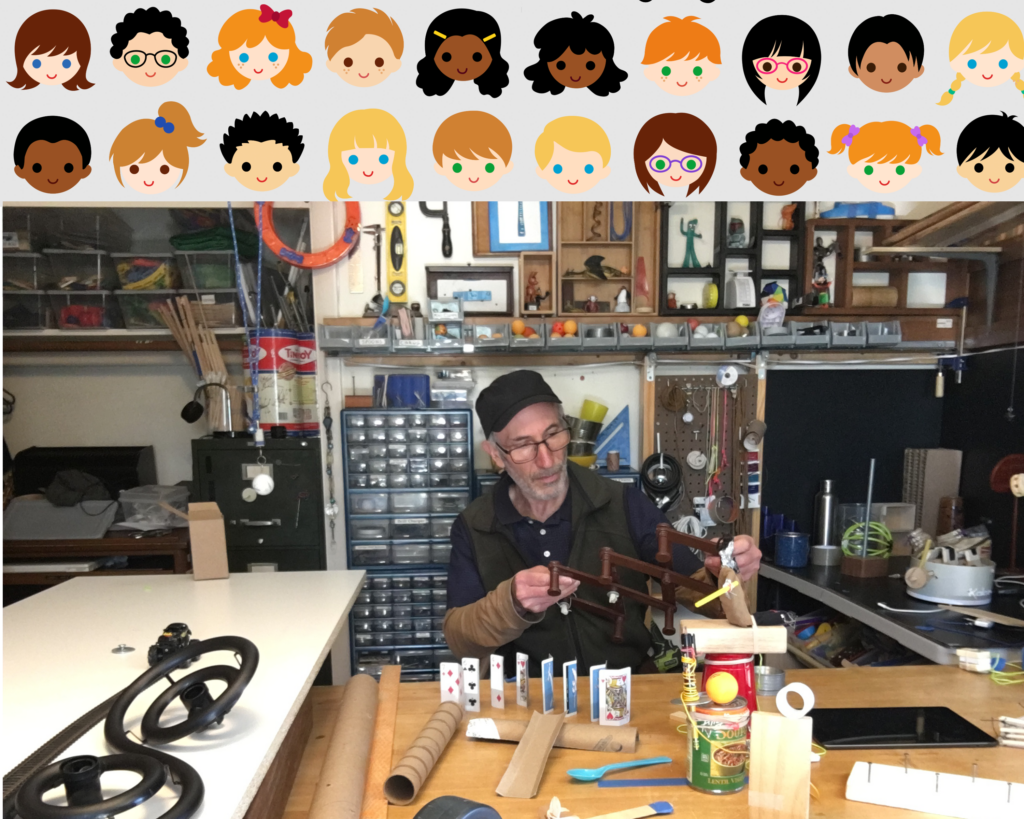 First, students watch Jay's entertaining, live-streamed demonstrations, as he introduces creative ideas and relevant engineering principles.
Jay's use of multiple cameras, state-of-the-art streaming software, and a reliable gigabit internet connection make for a smooth, online experience whether student participation is from a classroom, or is fully remote.
After the presentation, students engage in hands-on building activities with Jay's guidance and support.
Or, choose a longer, more detailed presentation, followed by classroom building time after the live-streamed session.
We make it easy for you to gather and prep materials, or you can order classroom kits from us.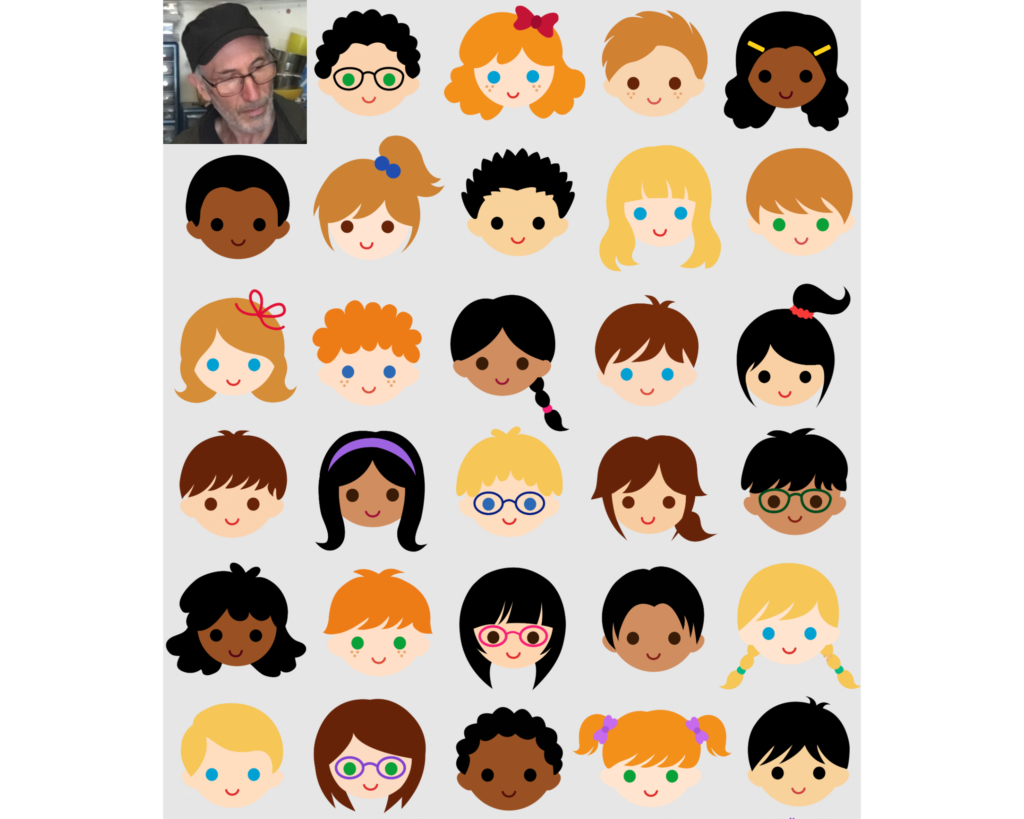 Makerspace Build-Along:
Artful Mechanisms

!
Extraordinary maker activities from craft sticks, paperclips, cardboard, dowels, brads, paper cups, and other ordinary materials.
Gather and prep the materials, or order the essentials from us.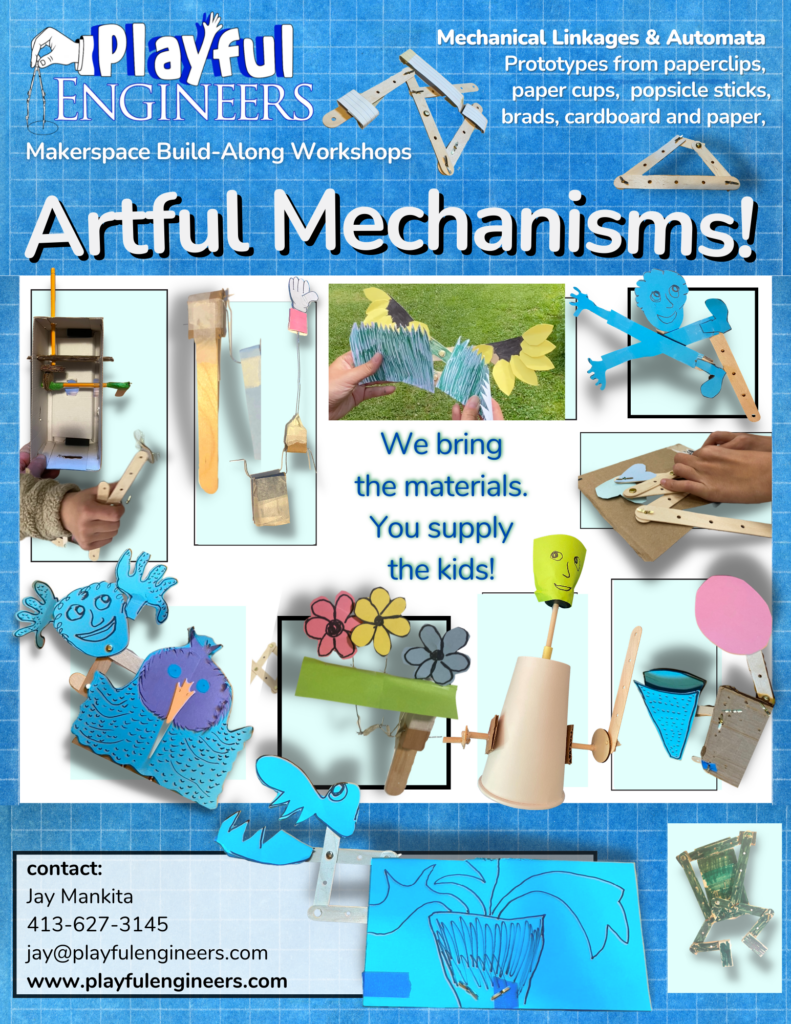 Mechanical Linkages from Craft Sticks!
Kids make scissor, reverse motion, and parallel linkages from pre-drilled craft sticks and brads which we provide, building backbones for their own artful mechanisms that send messages, tell stories, or accomplish tasks. As they build their mechanisms, they create their own designs as overlays, which in turn, modify the mechanisms. Engineering informs design, and vice versa.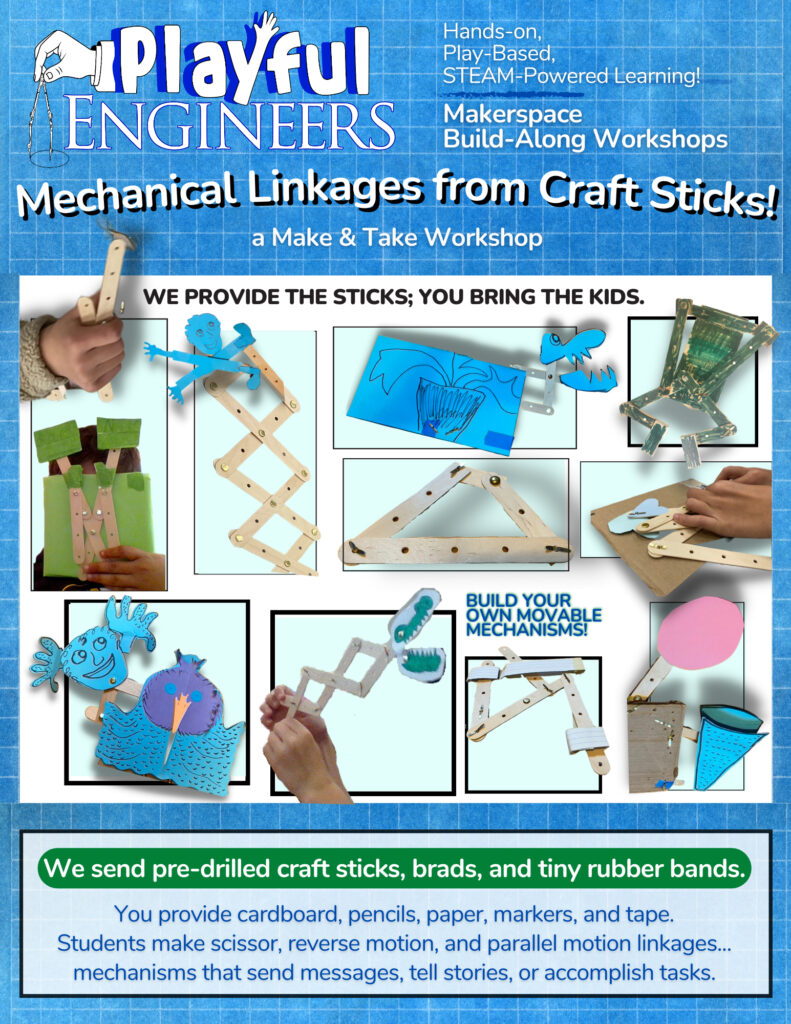 Crank-Driven Mechanical Automata!
Students make their own crankshaft-driven automata designs – artful mechanisms that can send a message, tell a story, or accomplish a task. For a single session, all you need to get started are paperclips, tape, cardboard, paper, pencils, and markers.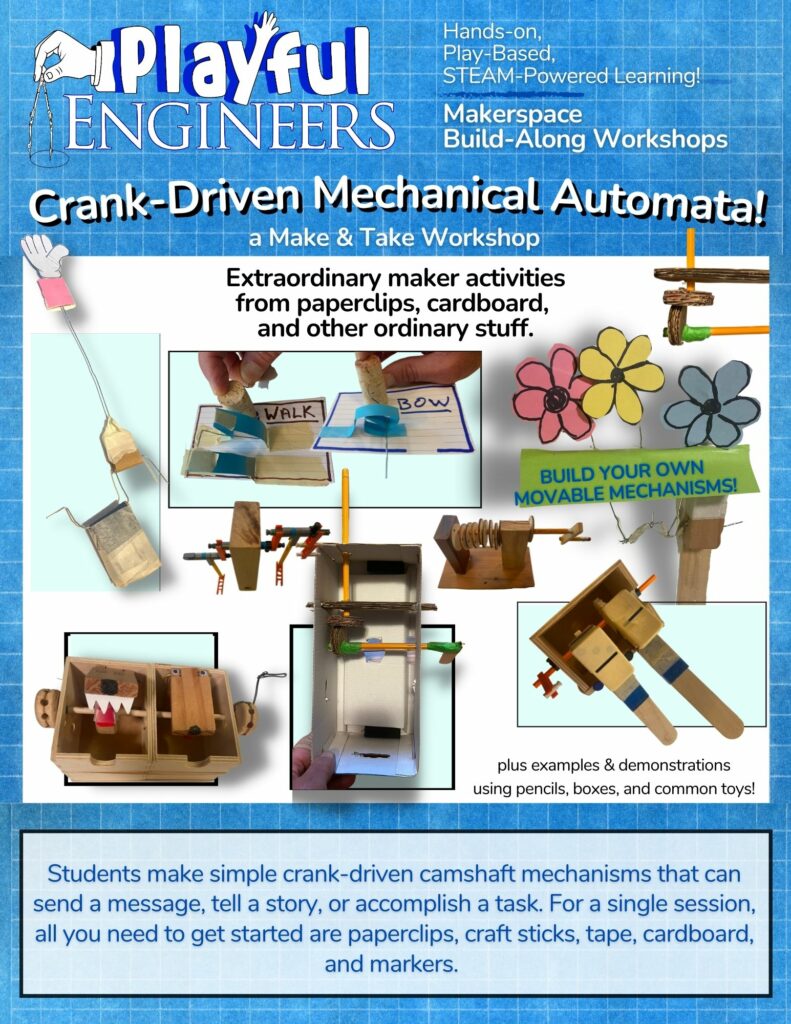 Stick-eometry: Geometry from Sticks!
Students make their own moveable polygons which can transform between 2 and 3 dimensions, exploring area and perimeter, and improving maker skills. This is the simplest of the Artful Mechanisms group, and requires only pencils or dowels, rubber bands, and masking tape.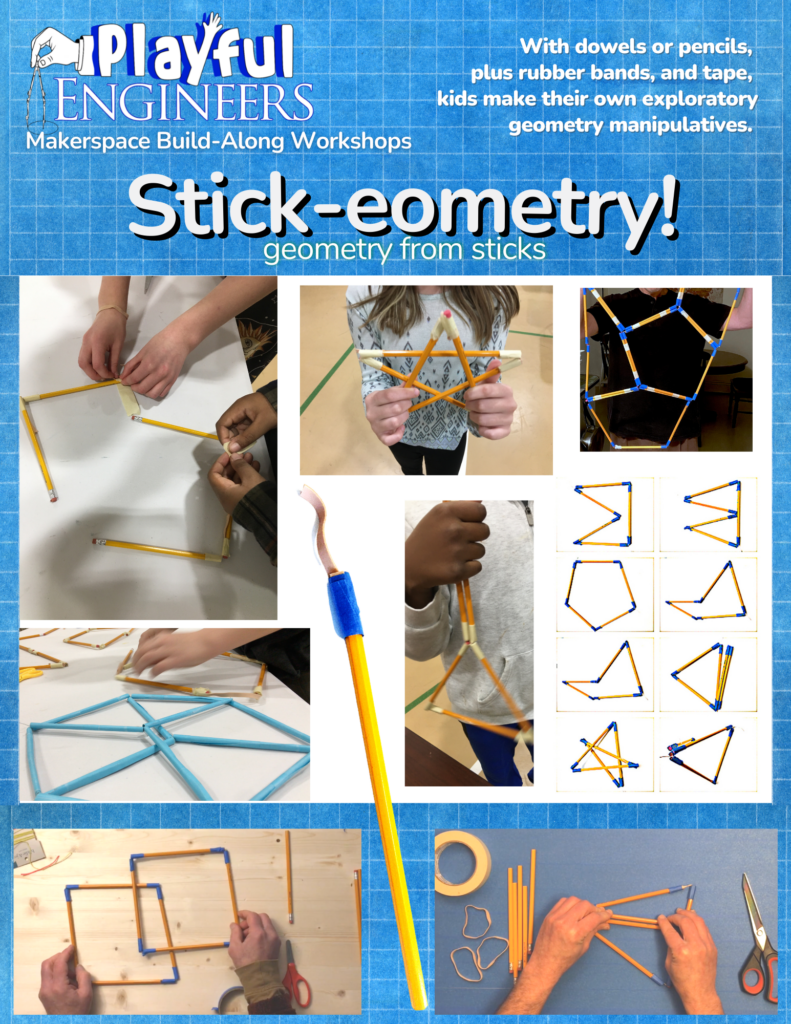 Makerspace Build-Along:
Chain Reactions & Creative Contraptions!
If you have a bigger group, we've got the materials. Chain Reactions was Playful Engineers first program, and is still our most popular!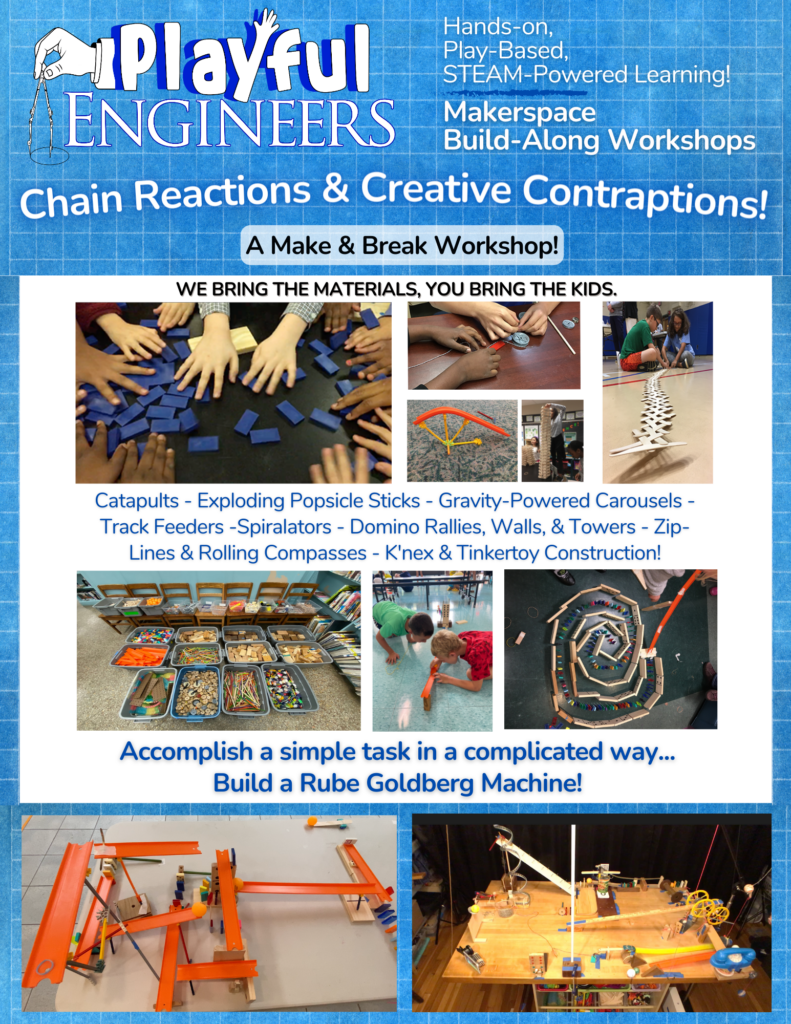 Creativity and ingenuity are brought to light in a fun and engaging way for all students no matter their ability or materials on hand. Jay was fabulous encouraging even the most reluctant students to begin and try. – Jessie Cardarelli, 5th grade Teacher, Burkland E.S.
"I want to thank you again for all of your help and patience. One of the last meetings we had was an all staff reflection on content area work. We, the science teachers, used the video from one of our students (his dog rang a bell that triggered a marble that travelled down to release a dog treat) as the highlight of our year and the end of our presentation. We marveled as this shy young man found his voice through engineering, design, and construction. A big assist to you for making that happen." –
Jack Czajkowski, Greenfield Commonwealth Virtual School
"That was SO MUCH fun! The kids very obviously loved it, as did I!" –

Megan Dehmelt, Burlington County Library
Let's make online learning happen at your school, library, camp, or organization.
Or just call 413-627-3145.