Traveling Makerspace!
Playful Engineers programs in-person at your location.
Jay and the Playful Engineers team are booking in-person events again; our Traveling MakerSpace is back on the road! You supply the kids – we bring everything else!
The programs featured on this page fit different ages and learning needs – from chain reactions, to mechanical linkages and automata. When we come in-person to your school, we provide everything necessary for kids of any age to have a fantastic time building, playing, and learning.
Our programs are flexible to fit your needs – we do large or small sessions in classroom, gym or cafeteria, for any grade level from Kindergarten through High School. We do mixed age groups and family nights too!
Our most popular Make & Break workshop: Chain Reactions & Creative Contraptions!
Kids build it up, then break it down and put it away for the next group to play.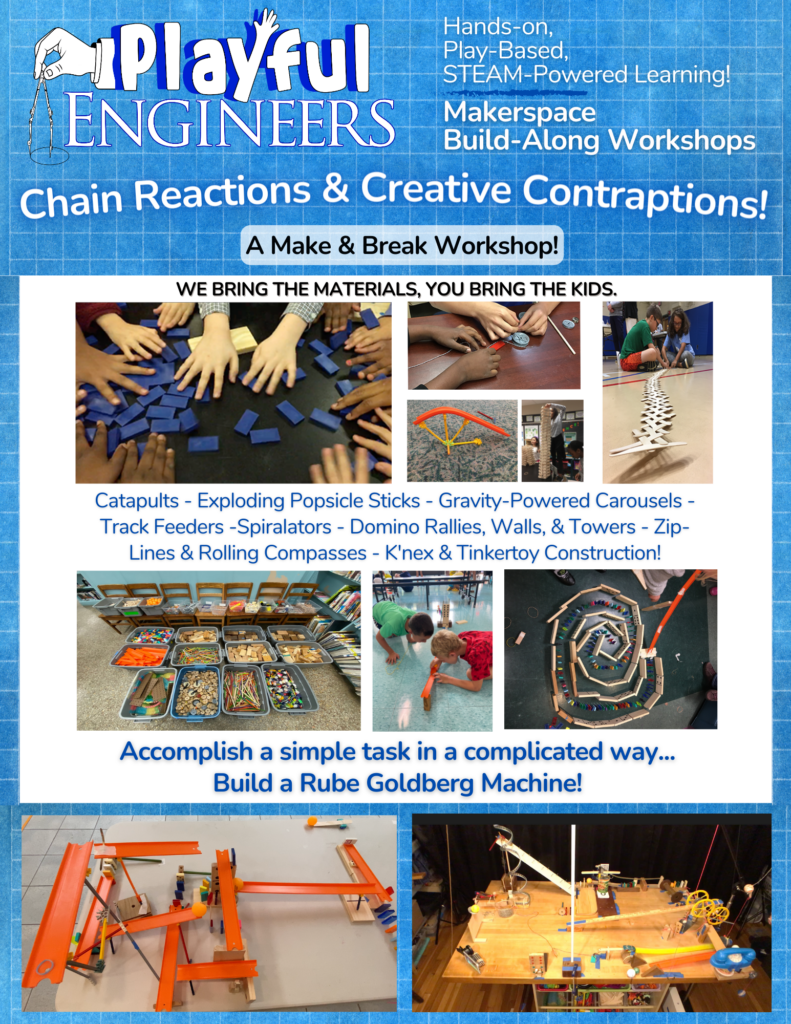 In-Person, with our hands-on, STEM focused workshops, participants design, build, test, and play with chain reactions and creative contraptions, like Rube Goldberg Machines, paper constructions, domino towers, exploding popsicle-stick snakes, and other awesome engineering explorations. Groups can be big or small, and sessions are tailored for all ages, abilities, and locations. Our Traveling Makerspace makes great events for schools, libraries, and your organization!
"Hi Jay, First let me thank you for an absolutely fabulous workshop at the Monson Free Library. Our families had such a great time and it was wonderful to see kids completely engrossed in building and experimenting and playing. Your balance of sharing information and then just getting out of their way was brilliant. Parents and kids both expressed how much they loved the program – thank you for a great afternoon." Sandy Courtney, Youth Services, Monson Free Library, MA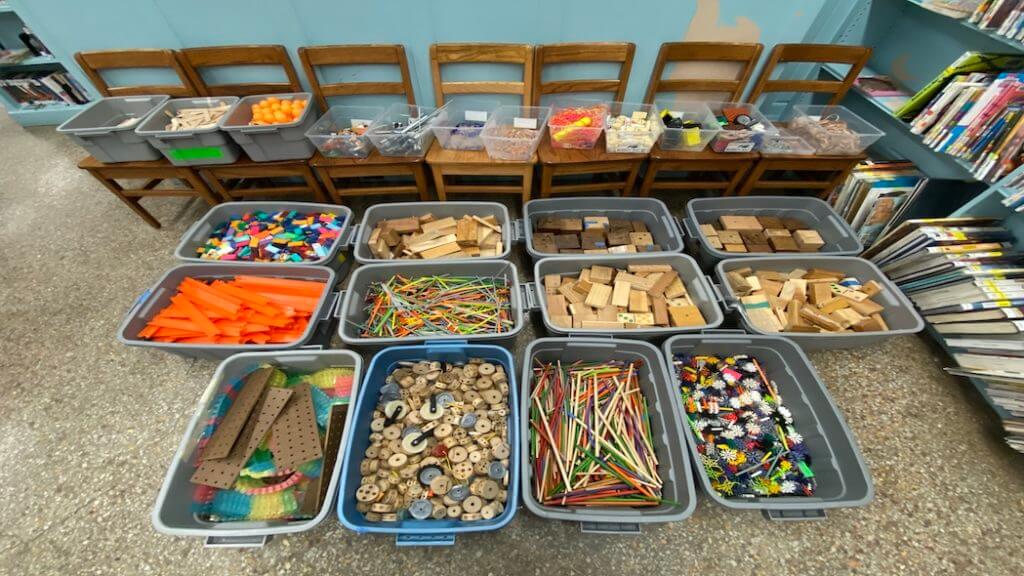 And our popular Make & Take workshops…
(Kids make their own mechanisms to continue working on and keep.)
Artful Mechanisms!
Extraordinary maker activities from paperclips, cardboard, dowels, paper cups, craft sticks, and other ordinary stuff.
Kids build basic structures for their own artful mechanisms that send messages, tell stories, or accomplish tasks. As they build according to instructions, they are also beginning to conceive and create their own designs to overlay those structures. That process in turn may lead to modifications of the structures. Engineering informs design, and vice versa. This workshop is best served as a series or residency. For one-time sessions, choose one of the more specific programs below.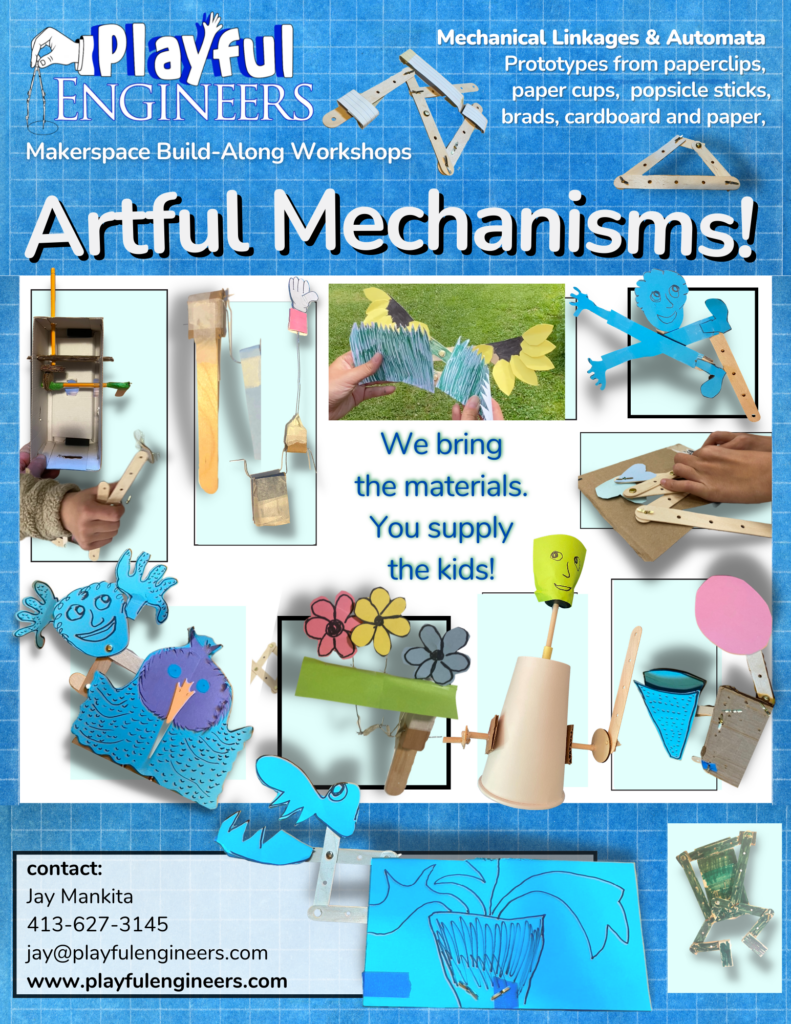 Mechanical Linkages from Craft Sticks!
Mechanical linkages are everywhere – in machines of course, but also in art, architecture, and nature – even in our own bodies. Becoming more familiar with them strengthens our foundational understanding of mechanical processes specifically, and engineering and design in general. Students make scissor, reverse motion, and parallel linkages from ordinary materials. Great for a single session, and we provide the pre-drilled craft sticks and brads to make it easy!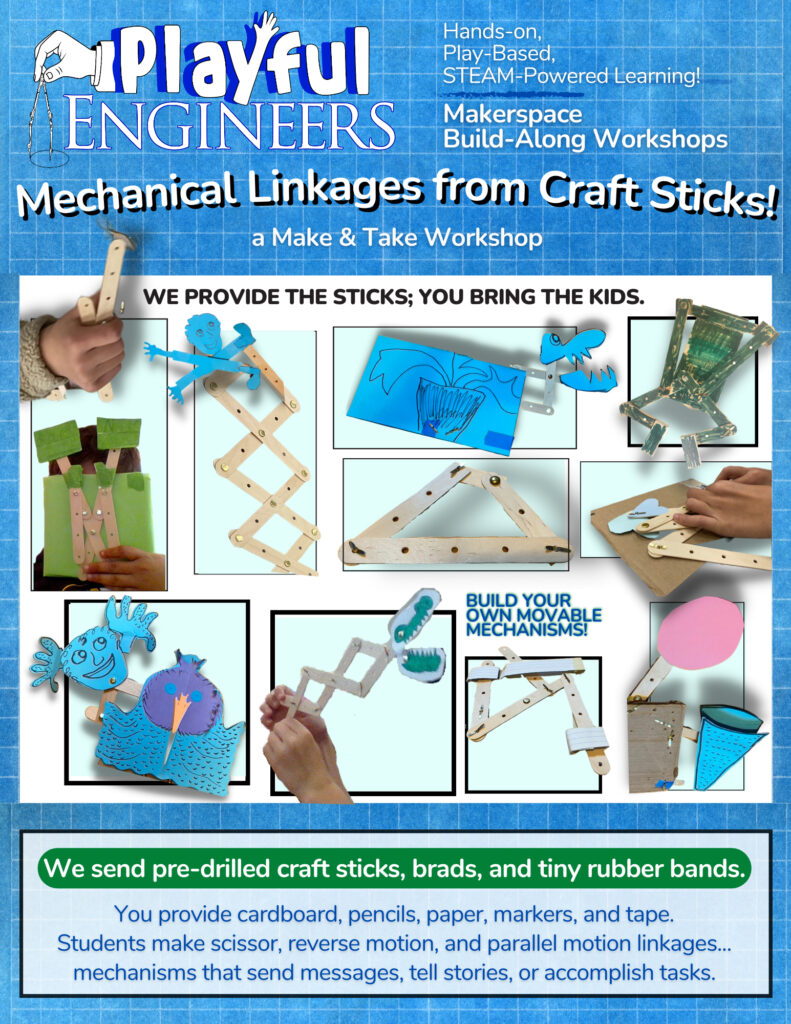 Mechanical Automata!
Students make their own cam and crankshaft-driven automata designs – artful mechanisms that can send a message, tell a story, or accomplish a task. For a single session, all you need to get started are paperclips, craft sticks, tape, cardboard, and markers.